Car Fob Services Austin Texas
Professional Car Fob Repair and Replacement in Austin, TX
When it comes to lists of things that drivers get frustrated about, needing a car fob replacement Austin is close to the top of the list. Nothing will throw a speed bump in your day like not being able to get into your vehicle. At Austin Locksmiths, however, we have addressed this problem and pride ourselves on being the leading automotive locksmith service in Austin, TX.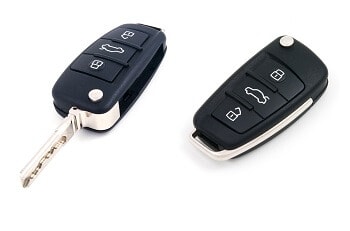 We are licensed, bonded, and insured, and all of our locksmiths have 5+ years' experience providing complete automotive locksmith service. We also provide upfront pricing to eliminate any stressful guessing on your part. We understand that convenience is key; therefore, our 24/7 locksmith service applies to car fob replacement and repair as well. Moreover, we guarantee a 30 minute response window, and our efficient team of locksmiths are dedicated to your needs, working hard to get you back behind the wheel as soon as possible.
Car Fob Repair
As you attempt to unlock your car but your key fob is not responding, the feeling of helplessness can quickly overtake you. Our mobile locksmiths are expert technicians determined to provide you with the most high quality, fast and friendly service you could hope for. You can expect one of our locksmiths to quickly respond your request, and arrive with a wide range of the most state-of-the-art equipment for the job. If your car fob seems to be malfunctioning, unresponsive, or if it has been damaged in some way, our car locksmith will do whatever he/she can to promptly repair it for you. Unlike some locksmiths, we would much rather repair your existing device than force you to pay for a full replacement car key remote. Whether you own a foreign or domestic car, we will do whatever we can to repair your key fob. We also specialize in replacing batteries if this is the only thing keeping your car key fob from functioning properly.
Car Fob Replacement
Most automotive locksmiths are still living in the past. They operate under old and outdated business practices and have not changed with the times. At Austin Locksmiths though, we are constantly setting new goals for ourselves, adapting, and innovating whenever possible. That being said, if your car fob is unquestionably beyond repair or if it has been lost or stolen, we'll replace your car key fob on site. As we've said, losing or breaking a car fob renders your car useless, and that is why our prompt and honest service is sure to satisfy your needs.
Seeking a replacement fob from a dealer will generally result in a slower, more expensive service. You can't afford to wait a week for a new car key fob. Calling one of our technicians will prove to be far more satisfying to you, as we can reprogram a new car fob or remote without the hassle or cost associated with a dealership.
Call Austin Locksmiths First
We believe that customer satisfaction comes before everything else. Providing you with the most positive experience possible is always our goal. We don't simply provide an industry standard service; we seek to define the industry standard! In our eyes, a complete vehicle locksmith service in Austin is one that covers all aspects of vehicle locks. We are constantly pushing to excel where others fail.
Whether it is our 24/7 Austin locksmith service, our friendly staff, or the honest and upfront pricing that will never leave you feeling cheated, you will quickly see that we are the best in the business. Don't waste your time with locksmiths that provide a limited service and outrageous prices! Instead, go with the company that will always be there for you. We are the company that goes beyond simply getting your locked keys out of your car. It will only take one experience with us for you to understand why we are so proud of our business. So, the next time you need a car fob replacement or car remote repair, save yourself time and money by calling Austin Locksmiths. We're standing by 24/7.