Home, Office, and Car Key Extraction Austin
Your 24/7 Emergency Locksmith Providing Service for Broken Keys in Austin, TX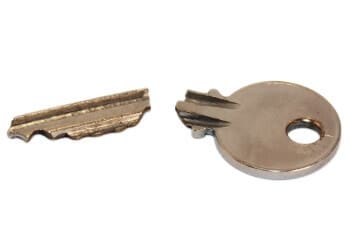 Whether you have a broken key in a lock or your key is just sticking and not working properly, you will need a professional key extraction Austin service quickly. Whether the problem key is to your house, office, or car, you can get fast and friendly, 24/7 locksmith service in Austin, TX or the surrounding areas with Austin Locksmiths. Here at Austin Locksmiths, we are fully licensed, bonded, and insured and excel at key extractions of all kinds. We will always provide you with fast and friendly service, and upfront pricing so there are never any additional surprises to what is already a stressful situation.
Broken Keys Can Happen at Any Time
Here are a few situations to consider: You are going to your car. It is a hot day, you have ice cream in your grocery bag and some lovely steaks in another. Just as you go to unlock your door you hear a "snap" and stare at your broken key. Or, you have just returned home from an evening out. It is late and you insert your house key and nothing happens. You try to remove it and it is jammed in the front door lock. You are locked out! This is the time that you might want to panic, but we urge you to remain calm and call Austin Locksmiths for key extraction service. Our mobile locksmiths can get to you quickly within a 30 minute response time and will provide whatever service is required in addition to key extractions including key cutting, lock replacement, and more. We can even make spare keys on the spot.
The Expertise of Austin Locksmiths
All of our mobile locksmiths are not only expert technicians but dedicated professionals as well. We provide all of our key extractions and rekeying services around the clock, every day of the week. We believe that since a key emergency can happen at any time that there should be someone to provide 24/7 locksmith service in Austin that is fast and dependable. We also follow a strict upfront pricing policy that allows you to know exactly what to expect when we arrive.
Key Extractions for Your Residence
We like to think that your house is your castle. There is nothing more frustrating than not being able to get into your castle because your key broke off in the lock. When we get your call, it will only be 30 minutes before we arrive. Once there, our professional residential locksmiths can remove the key and either replace the broken key or rekey the lock if that is the case. If needed, we can also make spare keys on the spot so that you have some peace of mind against this happening again.
Key Extractions at Your Office
Our company will also provide services at your commercial premises as well. Key extractions for businesses are similar to those of residences; however, they can be a bit more complicated due to the tougher nature of commercial locks. All of our technicians, however, are professional commercial locksmiths in Austin so you can rest assured they'll be able to extract your office keys in no time.
Automobile Key Extractions
We know that you need your vehicle and that being locked out of it is a major pain. That is why we have professional auto locksmiths ready to help you get back on the road once again. We can help with car key extractions, key duplication, and more for all makes and models, foreign or domestic. Even if we need to rekey your car's locks and doors, we can do that, quickly and professionally.
24-Hr Locksmith Service in Austin
We know that response time is important to our customers. That is why we provide fast service, 24 hours a day, 7 days a week with a 30 minte response time. Lock and key emergencies occur at convenient times so we know that you are going to need someone that will be able to help you on weekends and holidays, at all hours of the day and night. Our service is additionally worry free because of our upfront pricing as well, so there is no guessing about how much a call will cost or surprise charges at the end. All of our residential, automotive, and commercial locksmiths are also licensed, bonded, and insured.
Broken or stuck keys, keys that won't turn, or keys that have just stopped working can seem like the worst thing, but we at Austin Locksmiths Austin, TX can fix the situation quickly with our professional service for key extractions offered around the clock.