Lock Repair Service with Austin Locksmiths:
Get complete lock repair services in Austin, TX today!
Your locks are essential components of your home security. The high-quality cylinder-style lock is both strong and mechanically complex. So, when it breaks down, it requires a professional lock repair service.
When your lock is not working correctly, it can be frustrating to not know what to do. Depending on the issue, many times your lock does not need to be replaced and a simple repair may fix the issue. Unfortunately, most lock makers don't include the tools needed to fix them.
When you need dependable lock repair services, turn to Austin Locksmiths, serving Austin, TX, and surrounding areas. We will help you secure your home to maintain its security and value.
If you are looking for lock repair, or need to replace or service locks for your home, our home lock repair technicians provide prompt and reliable service. Our experienced technicians find the easiest way to identify the problem and resolve it is by testing the lock. They will then replace the lock core and provide a brand new key.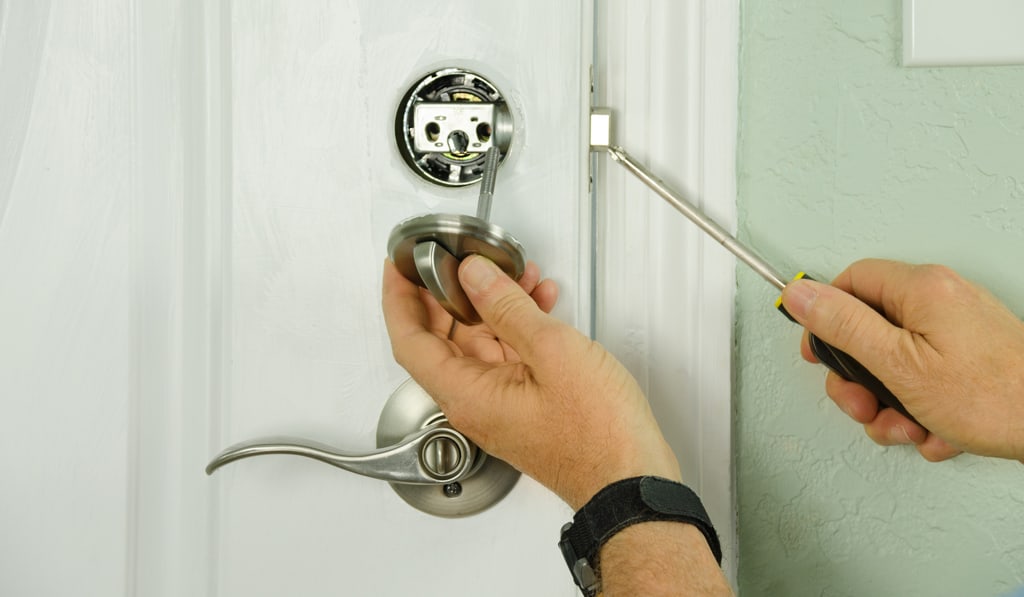 What all can be repaired? 
While an apartment door lock or deadbolt may last for a number of decades, problems can arise, like a lost key, a broken key, or a key that is stuck in a lock, and the lock will need to be repaired. If you need such apartment lock repair services, you can count on us.
While we are known as Austin's most experienced locksmith and door repair service, we have experience with all kinds of different locks where our locksmiths can repair the following:
Cam locks
Deadbolt locks
Electronic locks
Furniture, desk, and cabinet locks
Key-in-knob locks
Interchangeable core cylinder core locks
Jimmy-proof deadbolt locks
Lever-handle locks
Mortise locks
Pocket lock
Rim locks
Smart locks
Wall-mounted locks
At Austin Locksmiths, we specialize in lock repair that maintains the integrity of your doors, frames, and structural components. We understand that our customers may not be looking forward to the potential damage involved with lock repair and make every effort to preserve as much of your property as possible as we work. A problem door lock cylinder can be a challenge to figure out sometimes.
Are you certain that your home or business needs a new doorknob, door handle, or the entire lock mechanism replaced? A full lock repair may not always be necessary. Sometimes just a single part of the mechanism needs replacing.
When to repair your lock? 
Locks need to be replaced for a variety of reasons such as
– You upgraded your security system and need new locks to go with it – You are changing business locations and want to make sure no one still has access to your old building using the old locks
– There is the issue of damaged locks from a break-in, theft, or simply from weathering over time
All of these issues can impact your security systems' overall effectiveness, which is why we offer affordable lock replacement services in an already stressful time.
Ultra quick lock repair services:
Whether it is an emergency or an inconvenience, we are here to help with your residential locksmith needs. We are a locally owned and operated full-service locksmith company that performs complete residential locksmith and lock repair services for any home in the Austin area.
Our trained technicians arrive with a fully equipped service van in order to complete most jobs on the spot. Our dedicated support staff are experienced, skilled, and committed to your well being. We have a trained technical team on hand who boasts a response time of 30 minutes or less.
Why go for Austin Locksmiths? 
We understand that when it comes to your home, you want to keep your family safe. Our team is dedicated to providing you with just that. With the help of our experienced professionals, we offer top-quality lock repair services customized to fit your requirements and needs.
With locksmiths on wheels, we can arrive in the 'distress area' in less than no time. Additionally, as our vans are GPS-equipped and there is a strategic placement of standby vans around the city, you needn't worry about late arrivals or waiting for long hours. Our customers can rely on us for:
24/7 availability
Response time of 30 minutes
Upfront pricing
Fully licensed, insured, and bonded experts
Technicians with 5+ years of experience
High tech professional equipment
With lock repair from Austin Locksmiths, you never have to worry about the security of your property. Our team of fully licensed locksmiths and insured experts are prepared to repair all manner of lock issues under the sun, and work to always repair locks whenever possible – and when the situation demands the replacement, our team is even prepared to replace the entire locks as well.
Our lock repair services are provided with the highest level of efficiency at affordable rates. You can rely on our team of fully licensed and insured experts to assist with all lock-related problems, including re-keying, repairing, or installing brand new locks for your home or business.
Your one-stop-shop for lock repair needs: 
At Austin Locksmiths, we realize that home security is one of the most important aspects of life, and because of that, we offer 24/7 door lock repair services to ensure that you and your dear ones are secured at all times. Our solutions for lock repair for home or office locks are made by the leading brands in the industry.
We'll come straight to you, fix your door locks, and get that safety back in order. If you're locked out of your residential property, our technicians are here to help you with lock repair services 24/7!
We're at your service when you need us. Get in touch with us today for a quick response and licensed, fully insured, certified locksmiths and security consultants who can get you back to your home.
Simply give us a call at (737) 222-7022 and we help you get back your peace of mind.