Ignition Switch Repair and Replacement
Choose the Leading Austin, TX Automotive Locksmiths For Your Ignition Repair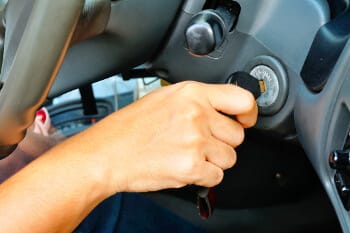 So you are fairly certain that your car needs an ignition switch repair or possibly even a replacement. Most likely you have ignored the warning signs. Your car has had some difficulty starting or it starts but just as quickly stalls out. You have also noticed that the interior lights do not seem to be working properly. These are some of the most common signals that something is amiss. Don't beat yourself over the head about it. Many before you have not recognized these warning signs until one day they get into their vehicle in the cold of winter or the heat of summer to find that it won't start at all. Rather than being dismayed, simply put in a call to Austin Locksmiths.
Why Should I Choose Austin Locksmiths?
Knowing who to call in an emergency involving a faulty ignition switch can be exasperating to say the least. You don't want to trust your car to just anyone. With 5+ years' experience serving Austin, TX and surrounding areas with the technicalities of ignition switches, our complete locksmith service in Austin is second to none. Hundreds of satisfied customers will willingly attest to that. Whether your car will need a complete ignition replacement or a minor repair, leave nothing to chance by allowing our licensed, bonded, and insured technicians to do the necessary work on your vehicle. Our expert technicians will leave no part of the job to chance. Ignition switch repair is second nature to our automotive locksmiths. Our 24/7 Austin locksmith service is just an added bonus. Whenever you need us, we can be reached to reduce your dilemma to a mere inconvenience. Even a full ignition replacement can be easily handled with our Austin car locksmiths.
The Service We Offer
It cannot be stated often enough that the service we offer exceeds that of our competitors. Our car locksmiths are the best in their field and leaders in Austin, TX. You will find that your ignition switch repair will be done correctly the first time. There will also never be any need of hiring a tow truck to bring your vehicle to our place of business. Our mobile locksmiths will come to you anywhere you are stuck in Austin, TX and surrounding areas. A 30 minute response time also means that you don't have to wait hours for service. All necessary repair or replacement parts are brought to you by our expert locksmiths and ignition switch repair can be done on the spot.
Replacement car keys and car lock rekeying are another part of our fast and friendly service. Our technicians have the ability to replace a key that will open both car doors and the car trunk. No more carrying around two separate keys. Car key replacement is a snap with our men on the job.
Our Personal Guarantee
Our locksmiths are fast and friendly and quick to answer any questions you may have. They will quickly locate the problem you are having and give you upfront pricing removing any qualms you may have about how much the repair will cost you. As an added bonus our locksmith technicians work on both foreign and domestic cars of all makes and models. How often have you heard the numerous horror stories about getting repair work done on a foreign car? That is never the case with our locksmiths when it comes to ignition switch repair or replacement along with other electrical components.
There really is nothing else you could ask for in work performed by our skilled and knowledgeable automotive locksmiths. We provide reputable, dependable, and honest workmanship in every phase of the job. We offer locksmith service around the clock with swift, 30 minute response times. Moreover, with over five years of experience, we only get better at what we do. If any other questions may be on your mind, you can feel free to contact us and our knowledgeable staff will have an answer to any query you might have. Look no further than Austin Locksmiths for reliable service for your vehicle's ignition switches.