Commercial Locksmith Austin
Complete Commercial locksmith Service Austin, TX and Surrounding Areas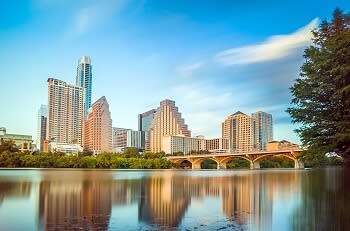 Austin Locksmiths is a leading commercial locksmith Austin, TX business owners can trust. All of our lock technicians have over 5 years of experience in serving Austin, TX and surrounding communities. Moreover, because all of our locksmiths are situated within Austin, TX, we are a local Austin locksmith able to provide a response time of 30 minutes or less. We are also fully licensed, bonded, and insured and provide upfront pricing for all services before our technicians perform any work.
Our commercial locksmith Austin services are offered around the clock to address emergency and maintenance issues with commercial locks and door hardware. Office lockouts can disrupt your business' operation in many ways. For example, what if the manager loses the keys to the front door office locking all his employees and himself out? This means business for the day will not continue and the company will suffer a great loss. With Austin Locksmiths, however, a trusted and certified company providing 24/7 office lockout service will come to your rescue.
Lock Rekeying And Lock Replacement
We can change damaged locks or rekey existing locks so that they accept a new key. Consider rekeying your office's locks when you've moved into a new property or a set of keys was stolen. In cases where the lockset cannot be rekeyed (if, for example, it's too old or has been compromised in any way), our commercial locksmiths will change the lock completely.
High Tech Locksmith Services
If you're tired of having to carry around several keys or if your employees are prone to losing keys, Austin Locksmiths can install keyless entry locks for your office. Choose from biometric locks for sensitive areas or alpha-numeric keypad locks as a form of access control.
Panic Hardware
We can install and repair panic bars for Austin, TX businesses that meet all necessary building codes and zoning laws. Panic bars allow the door to be locked from the outside and allow people to exit from the same door without having a key by pushing the panic bar. Certain commercial properties, such as schools and hospitals need to have exit devices installed on emergency doors and Austin Locksmiths can help with this.
Installation And Repair Of Master Key Systems
Why have a key ring with 20-50 different keys when you can have one master key that opens doors that you designate. Austin Locksmiths can install master key systems for hotels, landlords, office buildings, government buildings, etc. If anything goes wrong with the master key system, let Austin Locksmiths' commercial locksmiths repair it promptly and expertly.
Lock Installation And Repair
Business owners trust our commercial locksmith Austin, TX service to install and repair profile cylinder locks, mortise locks, deadbolts, and more. Even if we didn't install the lock, our technicians will be able to repair it for you and replace it, if necessary.
Access Control Systems
As a complete locksmith service in Austin, TX with technicians that have 5+ years of experience, our locksmiths know their way around setting up access control systems for businesses. Install these systems to restrict entry to designated areas to certain authorized individuals that may enter by inputting a code in a keypad, using a biometric fingerprint, using a fob, or using a magnetic keycard to inform the system of their identity before entering the area.
Automatic Door Closers
Consider installing automatic door closers for your Austin, TX business since they help save energy costs (especially in the summertime) and keep dirt and pests from entering your building. Automatic doors are also useful to have from a customer's point of view. Our locksmiths can also repair malfunctioning or sluggish door closers even if we didn't install them.
Video Surveillance
Trust the pros at Austin Locksmiths to install closed circuit televisions and repair them 24/7. Not only will our professional locksmiths install CCTVs, but they will also assess your premises and determine the best placement of video cameras. Our mobile locksmiths in Austin are highly qualified to do this job at a price that fits your budget.
The Most Qualified Commercial Locksmith Austin, TX Service
With 5+ years of experience as locksmiths in Austin providing complete locksmith service, our licensed, bonded, and insured company offers the best services with upfront pricing. Not only can you order locksmith service online but you can also chat with our representatives 24/7 to have any inquiries addressed. What are you waiting for? Next time you need a commercial locksmith, call Austin Locksmiths.