Mortise Locks
Let Us Install A Mortise Lock For Safety and Beauty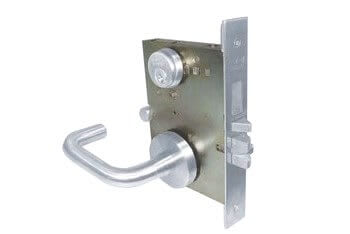 Mortise locks are making a comeback due to both their strength and their beauty. Here at Austin Locksmiths, we offer a wide variety of finishes and decors for those interested in installing mortise locks for their Austin, TX homes and businesses. Our locksmiths are licensed, bonded, and insured for your peace of mind. Our mobile locksmiths have a 30 minute response time if you ever get locked out. Our fast and friendly service is available 24/7 whenever you need us. One of the best features we can offer you is upfront pricing so there is no shock when you receive your bill. You may be asking though just what a mortise lock is and why you would want one.
What Are Mortise Locks?
Mortise locks are a type of lock that require a pocket or mortise cut into the door in order to work. They were once very common and are making a comeback due to their strength and beauty. If entryway security is important to you, then you may want this type of lock. These locks are great for wooden garage doors and even interior doors for rooms that shouldn't be locked except on occasion as only you have the key.
Why Can't I Install One Myself?
Mortise locks need expert installation due to their need for expert woodworking experience and tools. It's not advisable for the average homeowner to try and install one. A special tool called a mortise jig is often used to ensure proper installation of the pocket. Our expert technicians are qualified to do this type of work and you can rest assured that our complete Austin locksmith service doesn't just mean a great lock but also an honest and skilled technician.
What If I Get Locked Out Or Lose My Key?
If you should find yourself in difficulty, just call for our mobile locksmiths. They are qualified to both install and repair mortise locks. All of our locksmith services also come with a 30 minute response time, meaning you aren't left to wait for hours in the dark or unsafe areas. Our expert technicians will know just what to do to maximize the safety of your home or commercial property.
The Aesthetic Appeal Of A Mortise Lock
With a traditional lock, there is little choice in finishes and styles; however, with mortise locks, we can offer you a wide variety of locks that will match almost any decor. Choose from chrome, brass, or many other finishes. You can also choose from many different styles including traditional, rustic, antique, or modern to mention just a few.
You can even choose from a handle style, knobs, or levers. These locks will bring not only style but also beauty to your door. They are often used in both commercial and upscale residential homes. The beauty of mortise locks as well as their strong locking mechanism has brought them back to the public. These locks are difficult for criminals to pick or break adding to your business' or family's security.
Why Choose Us To Install Your New Lock?
We can offer you a complete Austin, TX locksmith service with upfront pricing. This means no surprises when you get your bill. We have 5+ years of experience to draw from. Our 24/7 locksmith service in Austin combined with our 30 minute response times in emergencies means you don't have to wait long periods of time if you need our services. All of our experienced technicians are licensed, bonded, and insured for your safety and comfort.
Our Austin locksmiths are among the best in the business and are experts at installing and repairing locks of all types. So for your safety and convenience, give us a call and let us show you what we can do for your home or business when it comes to installing and repairing mortise locks.