Profile Cylinder Locks
Profile Cylinder Locks or Euro-Profile Locks Repair and Replacement Austin, TX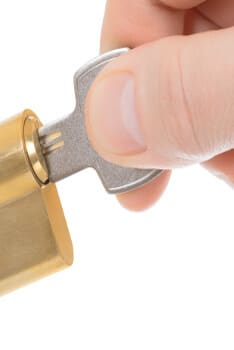 Austin, TX businesses and homeowners benefit when they install profile cylinder locks for their doors. This type of lock offers a higher level of security and convenience to the property's access points. Profile cylinder locks, sometimes called Euro-Profile Locks, are available in a variety of lock types and styles to fit any kind of door. For expert installation of these Euro-Profile locks, call upon the services of the professionals at Austin Locksmiths for complete locksmith service in Austin, TX and surrounding areas.
Expert Service
When it comes to installing and repairing intricate locking systems like profile cylinder locks, our trustworthy and knowledgeable team of experts have 5+ years of experience in the field. We are licensed, bonded, and insured with years of experience and exemplary service. Our expert technicians and mobile locksmiths provide honest, upfront pricing on all locksmith services. Our devotion to your needs puts us on call with our 24/7 locksmith service in Austin in the event of any emergency. Our 30 min response times mean your business or home will be secured quickly and with minimal interruption to your day.
Variety of Profile Cylinder Locks
Profile cylinder locks are available in different types and styles to accommodate a number of locking needs. Our fast and friendly technicians are able to diagnose the needs of your business or home and recommend the lock set that is most appropriate for your situation. The different types of cylinder locks that are available include:
Individually keyed system
Keyed alike system
Master keyed system
Grand master keyed system
Common entrance suite system
Electronic system
Individually Keyed System
This type of cylinder lock involves the use of only one unique key to operate each individual cylinder.
Keyed Alike
This type of system allows more than one lock to be operational with one key. Our expert technicians can easily install a locking system that will allow access to any desired area with one single master key for multiple locks.
Master Keyed
When one of our mobile locksmiths installs a master key system, the business owner is able to control the admission of employees to sensitive or restricted areas. Our technicians will install individual locks that operate with their own specific keys. Our trusted and honest associate will then create a master key, which will enable access to all of the individual locks. This type of keying system is efficient for hotels and office buildings.
Grand Master Keyed
Our field technicians are constantly training on the most recent installation and repair of complex grand master key systems. This type of system is a collection of two or more master key systems, which work individually as master systems, but which one master key controls. This type of system is most commonly in use in very large commercial settings such as shopping malls or universities.
Common Entrance Suite
We configure these types of Euro-Profile locks so that individual keys operate each individual lock. These individual keys allow access to available areas such as a common area, laundry area, or parking garage, while denying access to other areas such as other apartments or janitorial areas. One of our licensed, bonded, and insured Austin locksmiths will install these profile cylinder locks for apartment buildings, office buildings, or factories. Call us now to receive upfront pricing on the installation or repair of cylinder locks of your choosing for the safety and security of your commercial or residential property.
Electronic Systems
Electric current controls this type of locking system. With this type of lock, the master controller can control the logging system. These systems normally function under an access control system, which is able to oversee such things as logging the activity, time, and location information, adding and removing keys easily without re-keying, and total key control. These types of systems are often used in banks, municipal buildings, and hotels.
When there is a need for complete locksmith service in the Austin, TX area, we here at Austin Locksmiths are available with our fast and friendly, 24/7 locksmith service and 30 minute response times. With 5+ years of experience in honest and trustworthy locksmith service, our professionals are standing by to solve your profile cylinder lock installation, repair, and rekey needs.