Electronic Keypads Service with Austin Locksmiths 
Upgrade your home security with Electronic Keypads for your property in Austin, TX: 
Your house is your safe place. It's the space you retreat to after a long day at work. It's where you relax and unwind at the end of the week. You think to yourself that your home is safe and secure because you have a lock on the door and a security system.
However, there are many types of burglaries that can take place, including forced entry and burglary when left open. Luckily for you and for most homeowners across the nation, there is a solution to this problem and it comes in the form of an electronic keypad lock.
It is the easiest way to protect your home from intruders that is enhanced with an alarm system. It's like having a security guard who never naps on the job!
In the past, installing electronic keypads could make you feel like it was a hassle. But here at Austin Locksmiths, we are determined in providing top-of-the-line electronic keypad installation, repair, and replacement – all handled best by our proficient and skilled team of locksmiths.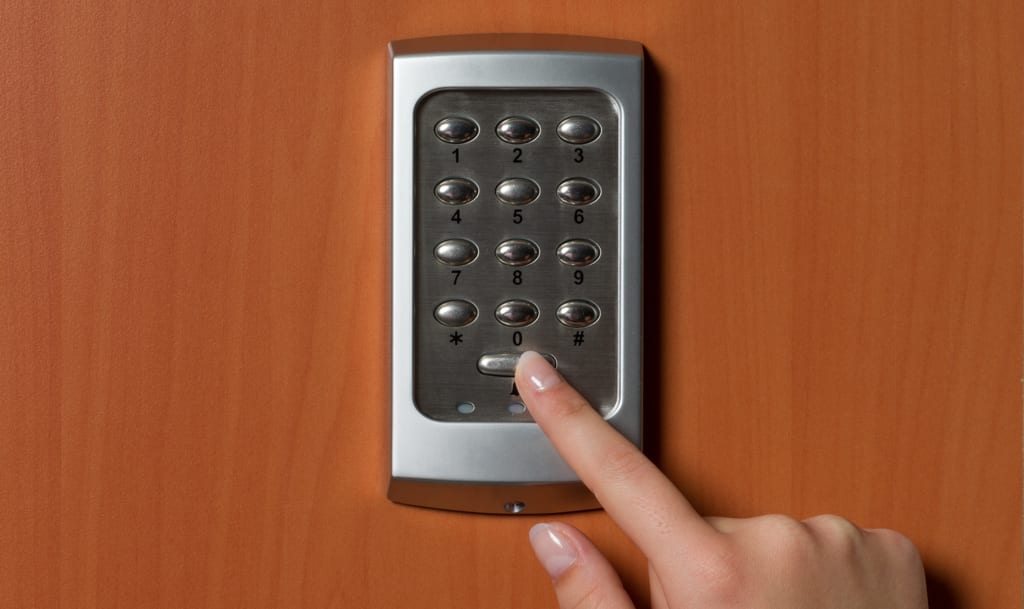 What is Electronic Keypad and how does it work? 
An electronic keypad is a type of digital lock that requires a numeric code to unlock. These keypads are commonly found in office buildings and apartment complexes where many people have temporary access to the building.
Such locks are operated by an electronic control system, which includes the main control panel and an electric locking device attached directly to the door. The main control panel has a series of buttons or touchpad that you will use to enter the code, then the selected electronic lock will be opened or closed accordingly.
Many digital door locks can be used with RFIDs. These commonly use either a keycard or a key fob to unlock the door. This technology is common in hotels and is also normally associated with electronic access control systems. A key fob has a small microchip inside it, similar to an RFID card but smaller. A reader in the lock signals the chip to transmit its unique ID number for verification to unlock the door.
Our Electronic Keypad Services at Austin Locksmiths:
There are a number of security threats that we have to contend with within the modern world today. Thankfully, there are measures you can take to secure your home or business against their advances.
This is exactly why we have come up with the latest and most innovative solution – the digital keypad door lock, which is inconspicuously compact, smart, and yet designer in nature.
One security measure you should seriously consider is electronic keypad installation and replacement for your current locks. Our electronic keypad installation, repair, and replacement is the way you should go!
We can provide both confidential consultations as well as face-to-face services at our fully outfitted shop. All work is guaranteed and comes with top-notch parts and labor! At Austin Locksmiths, we believe in providing you with an unparalleled security system and this begins with our highly trained locksmiths and staff.
Why do you require Electronic Keypads? 
A lot of property owners make use of electronic keypads. A lot of them have already realized how much hassle a standard lock can be. If for instance you're in a hurry and can't find your regular set of keys you will be at the mercy of your neighbors to supply you with extra copies.
If you're visiting somebody's home and you happen to forget your keys, let us just say that if you don't have an electronic keypad lock, you'll be spending the night in their house (unless they truly dislike you).
So many lose their keys and even their vehicles because of the "easy-access" nature of standard locks. But this can all be eliminated with the inclusion of an electronic keypad lock.
But how?
Below are the major reasons you require electronic keypads to ensure an ultra level of security:
With one touch of your finger, you can unlock the door without the slightest hassle.
It allows you to enter your house or workplace using a personal access code and you can easily access your garage or any secured room inside your home.
You don't need outside help to broaden your door security system. ● Such advanced technology is very safe because these do not rely on traditional metallic keys that can be easily lost or stolen.
An RFID access control system with an electronic keypad lock will let you save time as well as keep your house secure and safe.
To avoid getting locked outside your home may force you to break the windows or doors, the electronic keypad door lock is the right choice for homeowners
One such benefit is the sheer convenience they offer. Not having to carry around multiple keys each day can make life much easier.
In fact, the sophistication and effectiveness of modern electronic door locks can be easily ignored when their lifespan is only measured in years. However, given the convenience, affordability, and features that come with such locks; they give great value for money.
Why go for Austin Locksmiths? 
We understand that when it comes to your home, you want to keep your family safe. Our team is dedicated to providing you with just that. With the help of our experienced professionals, we help you install or repair electronic keypads customized to fit your requirements and needs.
With locksmiths on wheels, we can arrive in the 'distress area' in less than no time. Additionally, as our vans are GPS-equipped and there is a strategic placement of standby vans around the city, you needn't worry about late arrivals or waiting for long hours. Our customers can rely on us for:
24/7 availability
Response time of 30 minutes
Upfront pricing
Fully licensed, insured, and bonded experts
Technicians with 5+ years of experience
High tech professional equipment
We're at your service when you need us. Get in touch with us today for a quick response and licensed, fully insured, certified locksmiths and security consultants who can make the best choice for your valued property.
Simply give us a call at (737) 222-7022 and we will be available to help you!