Peephole Installation Service with Austin Locksmiths: 
Increase your home security with Peephole Installation services in Austin, TX today! 
The doorbell rings and you look through your peephole, only to find a stranger on your doorstep.
Who is it? Do you know them? Are they here to visit or here to rob you?
Don't ever wonder who is outside again with the Peephole door viewer. Adding this tool is quick and easy – and it's an inexpensive way to help protect your family against unauthorized visitors.
If you have children in your home, peephole glasses are a necessity. Peepholes help protect your family by allowing you to verify whether someone is at your door before opening it.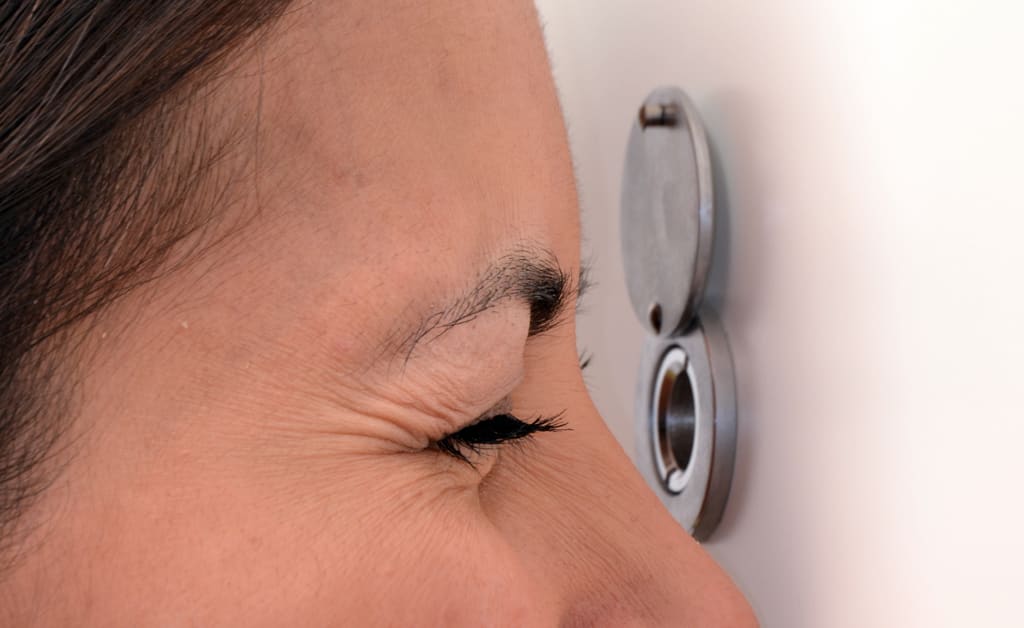 What is a Peephole Door Viewer? 
Peephole door viewer is a strong, powerful, and fully functional device that lets you keep an eye on your visitors with utmost perfection at all times so you are always one step ahead of any unwanted intruder. It features a 180° wide-angle lens, zinc alloyed body, waterproof surface, and HD screen.
The front door peepholes are much more discreet and harder to spot than the traditional hinges or windows. You can tell from a distance if the person at your door is someone you are familiar with, allowing for you to take precautionary actions if you believe there is anything suspicious about what is going on outside.
Imagine a situation where you are in the house and your spouse is alone outside the door. You want to make sure that he/she is fully safe. To know if he/she is completely safe, peepholes might help you.
What are the different kinds of peepholes for your doors? 
We have a vast range and various kinds of peepholes for you which are:
Miniviewers
Mini scopes
Xtrascopes
Nu Scopes
Widescopes
Ultra-vision
Some of the peephole installation services we offer are Peephole replacement for the front door, Peephole height installation, Door peephole set up, Peephole in a steel door, Peephole security camera installation & some more.
Why Peephole Installation is most-preferred on main doors? 
Below are the listed reasons, a lot of people are getting peephole cameras installed in their front doors to keep them protected at all times:
– With this straightforward piece of technology, you can lower the energy bills of your property space as it's a mechanical device and doesn't require electricity
– Peephole installation will help you to keep track of the movement in the vicinity and make sure that your home is safe and secure.
– It is a simple solution for security, privacy, and style. Installation takes only minutes for you to have your peephole installed easily and cost-effectively. – It also offers the auto-dimming function for nighttime viewing
Wish you could know if it's safe to open the door without having to answer it? With Austin locksmiths, you can. With our innovative peephole installation, you can gain back the confidence that your family is protected at all times.
Peephole Installation & repair services for your property: 
Your home is your castle, so ensuring the highest level of protection to it and the people inside should be your top priority. As a homeowner, you must have high-quality locks on your doors at all times.
Here at Austin Locksmiths, we pride ourselves on the knowledge that safety always comes first, starting with a peephole installed at your front door. We offer many modern locking systems, but we can also work with the classic ones if you have them.
Our professionally trained installers will arrive at your location within 30 mins to install a modern, high-resolution peephole so that you can see who's there without opening the door. They work quickly and make a low noise, leaving you with an eye on the outside world.
We cover the following services for your protection:
Peephole installations and repair
High-tech door viewer installations
Door viewer installation for flats
Personalized peephole solutions
Door viewer upgrades
We provide many optical security solutions to meet your needs for residential applications. We are a fully licensed, bonded, and insured peephole installation company. 
If you don't currently have a peephole installed at your property, give us a call at Austin Locksmiths. Because safety begins at your main door!
Why go for Austin Locksmiths? 
We understand that when it comes to your home, you want to keep your family safe. Our team is dedicated to providing you with just that. With the help of our
experienced professionals, you can rest assured about top-quality peephole installation as per your requirements and needs.
With locksmiths on wheels, we can arrive in the 'distress area' in less than no time. Additionally, as our vans are GPS-equipped and there is a strategic placement of standby vans around the city, you needn't worry about late arrivals or waiting for long hours. Our customers can rely on us for:
24/7 availability
Response time of 30 minutes
Upfront pricing
Fully licensed, insured, and bonded experts
Technicians with 5+ years of experience
High tech professional equipment
We understand that an unexpected problem can happen at any time and that is why we are a 24/7 company. We are always available at your service even on holidays and at any time of the day for your home security concerns. If you need peephole installation or repair, call us at Austin Locksmiths.
Our trained technicians will handle your project quickly and efficiently. They will help you repair numerous lock-related issues efficiently in no time. This includes broken and loose peepholes, repositioning and replacing the old one with a bigger lens or other locksmith services, etc.
You can count on us at every step!
We're at your service when you need us. Get in touch with us today for a quick response and our certified locksmiths will help you get added security and comfort.
Simply give us a call at (737) 222-7022 and we help you get back your peace of mind.