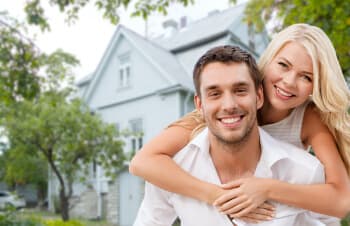 According to the FBI, there's a burglary every 15 seconds in the United States. This is just shocking and only goes to show just how unsafe our homes are. Most people don't buy advanced home security systems because they can be quite expensive. This shouldn't be so – affordable home security is very much possible with a few simple, low cost measures, such as the ones listed here. Read on to find out what they are.
Here are the top 5 tips on affordable home security:
1. Install Stronger Doors and Secure the Existing Ones.
It is always better to install stronger doors when the ones you have currently are not strong enough. But there are things you can do to make your doors stronger. First, inspect the front, back and side doors; replace the low quality doors that are easy to breach, or hollow doors with metal-clad doors or solid-core doors that are made from wood or metal.
If you have sliding-glass doors, you can make them more secure by placing a wood dowel or an adjustable safety bar to secure the interior floor track. Or you can add a floor bolt to the same.
Secure the garage door as just as well as you secure the front door. Always keep the garage door closed. Garage doors are a common point of entry for burglars because many homeowners forget to keep them shut.
2. Install Stronger Locks.
Installing stronger door locks is a must because locks are the weakest points on any door. Call a professional locksmith to install grade 1 or grade 2 deadbolt locks for you. These locks are much stronger because they penetrate the door frame. Make sure that the strike plate or the stationary piece into which the bolt enters is made from a really solid metal or brass. It should be fitted into the door jamb and door frame with 6 three-inch long screws. Choose deadbolt locks that cost more is worth every penny of the investment.
3. Ask the Police for an Inspection.
Ask the local police department to carry out an inspection of the house. Most police departments offer the service for free and suggest simple and easy changes to improve the home security.
4. Give the Key to a Trusted Neighbor.
It is always better to hand the key to a trusted neighbor than to hide it under a mat, in the mailbox or in a hiding spot. A potential burglar would know everything about the typical hiding spots used by homeowners, so it's not worth the risk.
5. Place the Garage Door Remote in a Secure Spot.
The garage door remote should be placed in a safe spot. So make sure not to leave it anywhere close to the door or in an obvious location in the house. Keep it hidden inside a drawer.
With the simple tips to your home security you can gain more
peace of mind

.

By simply following the tips outlined in this article you can gain more peace of mind and actually BE more secure. Keep your family secure and safe because it is worth every penny of your efforts.