Closed Circuit Television Austin
Video Surveillance Installation & Repair Services in Austin, TX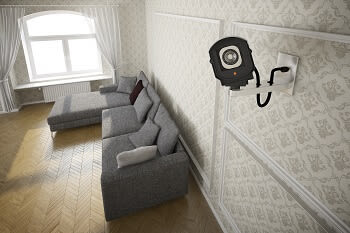 Closed circuit television Austin are an excellent investment for both big and small companies. It is the best way to achieve peace of mind that your business' assets, documents, and workplace are secured. It is the most efficient way to monitor your company's operations and maintenance even if you are away. With a CCTV installed, the assessment of productivity and efficiency of your workers is also easier. Furthermore, achieving high security standards will be easier. Installation requires choosing a skilled team that includes a local Austin, TX commercial locksmith to install and repair closed circuit televisions professionally and within your budget.
Austin Locksmiths is the leading locksmith in Austin, TX that provides professional services for your commercial security needs. We are a team of highly trained experts dedicated to installing and repairing closed circuit televisions to provide added protection for your business. With our locksmiths' 5+ years of experience, we guarantee a worry-free, professional service. We are licensed, bonded, and insured, and we offer our services throughout Austin, TX and surrounding areas. Austin Locksmiths is also fully mobile to give complete locksmith service to you on-site.
Your Security is Our Business
It is not easy to secure establishments, even one with a small space. It is also important to maintain harmony in your workplace with numerous employees. Your commercial property should always be protected, which is why advanced security like closed circuit televisions is needed to help keep everything in order. A high quality CCTV system will help monitor daily traffic in the building and other everyday happenings. When you need these requirements for safeguarding your business, Austin Locksmith can help you.
Austin Locksmith can install, repair, and replace CCTVs for different kinds of business establishments including malls, schools, banks, hospitals, government institutions, and many other commercial properties. Our broad range of products helps meet your particular needs, and we make sure to offer only the best and latest technology.
If you are preparing to open a business and want a secure start for the company, contact us. Our commercial locksmiths will examine the premises and advise you of the best type of closed circuit televisions along with the most appropriate placement. With a variety of choices, let us know what you need and we'll give you an answer.
If your business is in Austin, TX and surrounding areas, we do not just provide CCTV installation but a complete locksmith service. We understand that emergencies happens. When they do, call us and we will send you a trained mobile locksmiths for the repair and replacement of your CCTV, if needed. Our service is available 24 hours a day, 7 days a week, and we have reliable locksmiths and expert technicians who can provide immediate solutions for your closed circuit television problems. Our mobile locksmiths are always on call to provide 24-hour locksmith service in Austin, TX. We also offer affordable, upfront pricing on all of our locksmith services.
Choose the Best Locksmith
We are experts in this field. Do not take chances with inexperienced technicians because it might even cost you more money down the line. We have highly trained lock experts that are skilled, professional, and reliable. We are experts in this industry and with 5+ years of experience, we maintain a high level of service and our quality is enhanced with continuous training. We make sure that only the highest possible service is given.
We offer 24/7 locksmith service. If you need speedy help to install and repair your closed circuit televisions, look no further than Austin Locksmiths. Because we are local, our response times are just 30 minutes or less so you'll never have to wait for hours, which is especially important for emergency work. You do not want your business to be disturbed, which is why we make sure that service is finished as soon as possible. Furthermore, because we work 24/7, we'll work around your schedule to ensure the minimal amount of disruption to your business and employees.
We are honest, professional, and fully licensed, bonded, and insured. Additionally, our rates are reasonable and we provide competitive, upfront pricing. We do not make it complicated for you because your satisfaction is our priority. We will listen to your request and deliver the best possible solution.
An expert provides only the best. Our fast and friendly Austin locksmiths are waiting for your call. Contact us now and discover the difference.