Grade 1 Locks
High Security, Grade 1 Locks Installed and Repaired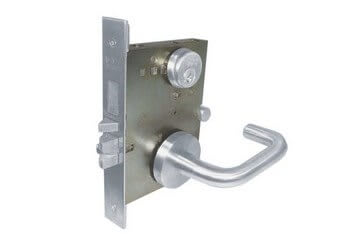 When it comes to
high security locks
to secure your place of business, Austin Locksmiths is the company to call. We offer
complete locksmith services in Austin, TX
and the surrounding areas. Our expert technicians all have
5+ years' experience
and are licensed, bonded, and insured. If you need to install or repair high security locks, call Austin Locksmiths, anytime. Our team offers
24-hour locksmith
service in Austin and is fast and friendly. We want to help you make your business more secure.
Why You Want High Security Locks For Your Business
Your business is your livelihood, so why not make sure it is as secure as possible? High security locks will stop even the best lock pickers dead in their tracks. These locks are reinforced and have keys that are much harder to copy. These locks also have a Grade 1 (the highest) rating and are very difficult to take apart or force your way through. If you value your security as much as we do, you will want high security locks installed for your business.
It is very common to hear about businesses being broken into and vandalized. As commercial locksmiths in Austin, we hear about these types of unfortunate occurrences often. The outside doors to your business are especially vulnerable to vandals and potential intruders. You want a Grade 1 lock that really makes your business secure. You will sleep better at night knowing that you have professionally installed, commercial grade locks keeping your business secure while you are not there.
If your locks ever stop working, give us a call. We don't just install these high security locks, we also repair them. Even if we didn't install the lock, we can still repair it. Our technicians are extremely experienced, fast, and friendly. If your lock is stuck or broken, we can be there within 30 minutes to help you. Our technicians are available any time of day and night to provide you with the highest quality locksmith services on the market.
We are the best commercial locksmiths for any lock installation, repair, or rekey job. Our mobile locksmiths are available around the clock to install and repair Grade 1 locks. Schedule our high security lock installation service at any time that is convenient for you. We guarantee a 30 minute response time because your time is just as valuable to us as ours is. Furthermore, anytime you call us, you will receive upfront pricing so you'll never face any surprises on your final bill.
Worried that upgrading your security might be more than you can afford? Give us a call. Our lock installation and repair services are very competitively priced and we offer commercial security options to fit any budget.
Our locksmiths are available to stop by and check out your existing security measures. You may be fine, but if your security is lacking, we can provide you with options to strengthen your weak spots. Remember, when it comes to your business, it's not just your information and security that is at stake. If your business is broken into, your customers are also at risk. Protect both yourself and your customers with our top of the line security measures. How far you are willing to go to protect your customers says a lot about your business. Let us help you show your customers how much you care about their safety and security. Don't wait until you have a break-in to beef up your security. Call us today to speak with one of our expert technicians. We would be happy to tell you about all of our Austin, TX lock installation and repair services.
Choose The Locksmith You Can Trust
Our mobile locksmiths have 5+ years of experience servicing Austin, TX and surrounding areas. Along with offering fair, upfront pricing, we are bonded, licensed, and insured. If you need high security locks installed or repaired for your business or if you have any questions, call Austin Locksmiths for your complete Austin locksmith service needs.