Magnetic Door Locks
Magnetic Door Locks Installed and Repaired in Austin, TX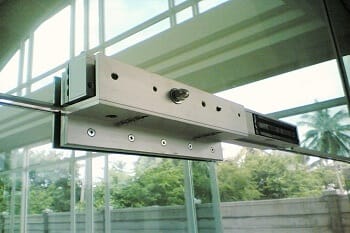 Every business concerned with safety and security needs to have magnetic door locks installed on their office doors. These types of locking systems are the perfect answer to any problems concerning safety, security, and cost. Enlist the professionals from Austin Locksmiths to install and repair magnetic door locks for your Austin, TX business.
How Do Magnetic Locks Work?
These locks operate with the aid of an electromagnetically charged magnet and a receiving plate. The magnet is installed on the door frame and the armature plate is installed on the door, commonly at the top of the doorway. This extremely strong magnetic force either repels from, or attracts to, each other when activated. These systems can be installed as fail-safe (unlocks when power goes out) or fail-secure (stays locked when power goes out) applications. This type of lock can be installed on numerous doors of a business while being controlled from one central control area.
What We Offer You
When you call upon our fast and friendly complete locksmith service in Austin, you will receive five-star treatment from the first "Hello." We pride ourselves on our ability to offer our clients a quick 30 minute or less response to all issues concerning the function of magnetic door locks. Our mobile locksmiths are located all over Austin, TX so wherever you are in the area, you can rest assured one of our commercial locksmiths will arrive in no time to assist you.
When your door lock emergency comes at the most inconvenient of times, call on our licensed, bonded, and insured 24-hour locksmith service for an immediate response. All of our expert technicians receive extensive training with 5+ years of experience in the field of magnetic door locks. Our mobile locksmiths also disclose prices for locksmith services before beginning any work on your doors or locks. There are never any hidden fees when you deal with our local Austin commercial locksmiths.
Superior Installation Services
If you are the proud owner of a new business, the existing locking system may not be adequate for your needs. Give Austin Locksmiths a call to dispatch our team of mobile technicians to remedy the situation. We are proud of each member of our staff. We dispatch all of our technicians to the job location with the proper equipment, parts, and supplies to get the situation remedied as quickly and efficiently as possible. We pride ourselves on offering the fastest, most complete locksmith service to all of our customers.
Each of our field technicians are extensively trained with 5+ years of experience on and off the job, performing complete locksmith service in Austin, TX and surrounding areas. Our vast knowledge of magnetic door locks allows us to inspect, diagnose, and repair them all while offering upfront pricing. We work 24/7 on your schedule to ensure the least amount of disturbance to your business as possible. The sooner you call upon our expert technicians, the faster we can return your business to a safe and secure state.
Fast And Reliable Repair Of Systems
Whether you are in charge of a large commercial business such as a hospital, mall, bank, or government institution or a small mom and pop grocery store, you need to address security lapses concerning the existing locking system of your property. When you notice a compromise in your security or are looking to upgrade your current locksets, call upon the licensed, bonded, and insured professionals at Austin Locksmiths in Austin, TX and surrounding areas. We know that there is no time to waste when security is in question, so we guarantee a 30 minute response to all requests for locksmith service.
Why We Are The Best
When our mobile locksmiths arrive at your business, you will feel secure knowing that a trusted and reliable commercial locksmith is on the job. Give our team a call for any repairs in need of attention immediately. We will always answer with our fast and friendly, 24/7 locksmith service in Austin. Leaving your business vulnerable to theft is a recipe for disaster that you can avoid by calling our honest and trustworthy crew to repair your locking systems. We coach our employees in the art of discretion and high security to ensure that your business is safe under the installation or repair services of our company. You can trust us to get the job done safely, efficiently, and confidentially.
Business owners need to take safety and security seriously. Proper locking systems will keep unwanted people outside, product and inventory safe, and information and documents confidential. Call upon the experts at Austin Locksmiths to install magnetic locks for your business. For complete control of your business and investments, magnetic door locks will help you shut the door on security and safety concerns.